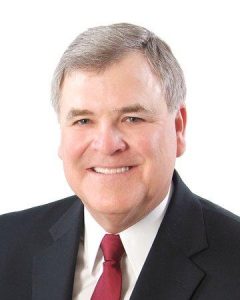 Judge Executive Stephen P. Wood took office January 5, 2015.
Judge Wood is a 1967 graduate of Williamstown High School where he excelled in basketball and is married to Teresa Simpson Wood, they are the parents of grown twin sons, Timothy and Anthony.
Judge Wood is a 1971 graduate of LeTourneau College, in Longview, Texas, where he continued to demonstrate his passion for basketball at the collegiate level.
Post college Judge Wood entered the workforce at the International Harvester Corporation in Atlanta Georgia. He left there to work for Belknap Hardware in Louisville, Kentucky where he stayed until he went to work for U.S. Brick, in Lexington. His managerial responsibilities with U.S. Brick took him to Texas, where he retired in 1989.
In 1989 Judge Wood and Teresa moved their young sons back to Grant County and purchased Dry Ridge Lumber from his father. After quadrupling sales, in 2002, Judge Wood sold the company and entered the construction business.
Devoted to using his business experience to improve the quality of life in Grant County, Judge Wood was one of the founding members of the Grant County Industrial Development Authority. His wife, Teresa, also served for 7 years on the county's 109 Solid Waste Management District Board.
In 2014 Stephen Wood left semi-retirement to run for County Judge/Executive. After winning his party's primary in a three-way race Wood went on to win election in November with over 63% of the vote.
Judge Wood has made it his top priority to apply sound business principles to the administration of government while at the same time expanding on efforts to deliver transparency and fiscally responsible management to the county.
In his first 100 days Judge Wood moved quickly in the transformation of government by opening an ongoing participative dialogue with the Mayors of the county's four cities; made provisions for the replacement and or repair of aged heating and air conditioning units at the county jail; undertook the refinancing of the jail to provide for $1.5 million in needed renovations of the county jail to meet state life safety standards; addressed the need for vehicles in the Sheriff's Office; and secured state emergency road funds for the replacement of a Scaffold Lick Bridge, after the state had banned school buses from the bridge in the summer of 2014.
In July, Judge Wood will begin to host a "Judge's Night-In" where he will hold office hours till 8:00 p.m. one night each month to provide constituents who are unable to meet with him during regular business hours to share their views.