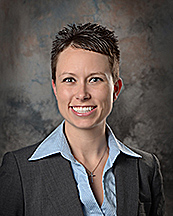 jriley@grantco.org
As Magistrate of District 1, Jacqalynn serves the citizens of both Corinth and Williamstown. Jacqalynn is married to her high school sweetheart, Stanley Riley, of 10 years. Together they reside in Williamstown on their 100 acre farm, just a few short miles from the county courthouse. Stanley is a Master Barber at his shop in Dry Ridge. In her spare time, Jacqalynn enjoys the outdoors; raising cattle, hunting, fishing, gardening, biking and running.
In 2002, Jacqalynn graduated from Grant County High School among the top ten of her class and serves as their class President. In 2007 Jacqalynn completed her undergraduate degree from Northern Kentucky University and obtained her Masters in 2012. Jacqalynn has been employed by Procter & Gamble since 2006 where she is a Human Resources Manager.
As a lifetime resident of Grant County, Jacqalynn has always been actively involved in our community. She serves on numerous boards and committees, and is passionate about helping others reach their full potential through maintaining a productive, healthy lifestyle. Jacqalynn is also a certified Group Fitness Instructor and enjoys utilizing her talents to benefit others. Her faith, family and friends are her strength and backbone. She views honest, open communication to be fundamental in maintaining robust relationships (with your spouse, family, friends, co-workers, etc.). Jacqalynn has a can-do attitude and is excited to give back to a county that she's called home her entire life.
ACTIVELY INVOLVED IN MY COMMUNITY:
Fitness for Life Around Grant County- FFLAG (non-profit organization), Member since 2007 to present. Past Derby Dash 5K Coordinator, Biggest Winner- Group Fitness Instructor, Built Environment Sub-Committee Member, "Putting Children 1st Initiative' Grant Sub-Committee Member, provided by the Foundation of a Healthy Kentucky
Chair of Regional Advisory Board of Directors- Northern Kentucky University Grant County Center 2008 to present
Member of Williamstown Baptist Church http://www.williamstownbaptist.com/ since 2010 to present

Vacation Bible School Instructor 2011, 2012, 2014
Living Well @ WBC Initiative Coordinator & Group Fitness Instructor, 2011 to present

Member of Grant County Homemakers Club http://ces.ca.uky.edu/grant/ – 2010 to present
Member of Grant County Republican Party 2013 to present
Member of Grant County Schools Foundation Board Committee http://www.grant.kyschools.us/highschool_home.aspx – 2011 to present
Member of Champions for a Drug Free Grant County- 2014 to present
Grant County Fair- Talent Show Co leader/Volunteer, http://grantcofairky.com/ KY 2012 to present
Grant County Cooperative Extension Council Member http://grant.ca.uky.edu/ 2013 to present
Grant County Chamber of Commerce Member- 2013 to present
Grant County Work Ready Community- In Progress, Soft Skills Committee & Education Attainment